BEARQUAKE VI: The Biggest Disaster Yet!
Thursday 06th of July 2006
Last Saturday in L.A. I had a serious agenda. Still tired from three months of no sleep I had been going to bed early for a week trying to get some rest into my organs and muscles and veins. Itís funny how the body will let you last as long as possible until the day comes when you just canít go anymore. Anyway, I had booked a facial which was a birthday gift given to me by my girls the donnas for 9 AM because as soon as it was over I intended to ruin my skin in the sun by laying by the pool of my hotel for a few hours, and I wanted to do it in prime blistering time. Yes. Iím a genius, but I swear Iím smarter than Paris Hilton. Anyway, I watched the first half of the Brazil France game and certain Brazil was going to win I went down to the pool and made my little oasis. It was pretty quiet although I noticed there were a few sorta bigger dudes hanging out together but I didnít pay it much mind. It was hot as shit so as I lay reading ďThe AgendaĒ by Bob Woodward I would periodically dip into the really cold pool and get some relief. After a while I noticed there were a few more bigger dudes and they all had beards and they all seemed super friendly with eachother. They seemed to be congregating in the hot tub and I began to assume they were ďbearsĒ which wikipedia defines as:
The bear community is a subculture in the gay community. Bears are gay and bisexual men with hairy bodies and facial hair, some are heavy-set but that is not a requirement. Bears often exhibit an outwardly masculine appearance. Some bears place great importance on presenting a hyper-masculine image and shun interaction with men who display effeminate style and mannerisms. There is much debate as to the definition of a bear, with some saying that anyone who identifies themselves as a bear is a bear, and others arguing that bears must have certain physical characteristics such as chest and abdominal hair as well as facial hair.Ē
I mean it is not a big deal right, but I was amused and wondered if there was a larger function happening as there seemed to be more and more dudes every few minutes. I went on with my day and planned to return on Sunday, and was outraged to learn of Brazilís loss.. Jeremy and I made a plan for brunch and in my sun zealousness I made him meet me early, picked him up early and made it back to the hotel in record time. I made a joke about the bears and as I did looked at the hotelís schedule of events for the day and lo and behold! It was a CONVENTION! BEARQUAKE VI: The Biggest Disaster Yet! HA HA HA.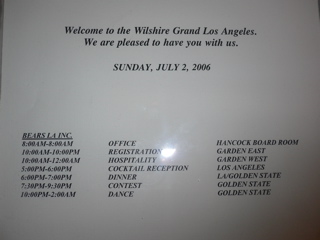 I went up to the room to change and then down to the pool and there was not a chair in sight and about 30 big dudes in the shallow end of the pool. It was a wild and awesome spectacle I have to say. I learned a lot, witnessing love, passion, boners, rain men and hilarity. Jeremy ironically was sporting jeans, no shirt, a BEAR belt buckle and his ridic fu Manchu beard I keep threatening to shave off myself.






We lasted a few hours, I got a tan and we made our way to santee alley
and china town to see my first hot dog eating contest.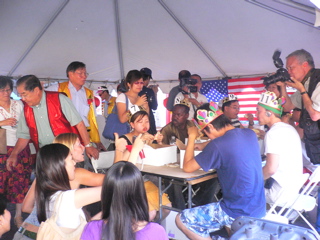 I have to say, sometimes, I love America.